Bergen County NJ Divorce Lawyer
Divorce and Family Law Attorney Serving Clients throughout New Jersey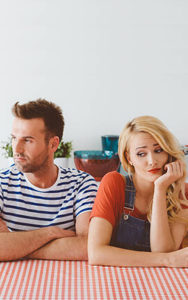 At the Elfant Rickett Law Firm, we understand that a divorce is one of the most challenging and difficult periods of a human being's life. The path through divorce is rife with potential conflicts, requiring seemingly endless decisions, all of which can spell life-altering implications for you and those you love. When faced with divorce-related issues, ranging from child custody and child support to property division and alimony, you need a partner who will ensure that you understand all of your options and a legal advocate who will fight tirelessly to achieve your desired outcome. Our law firm is dedicated entirely to New Jersey divorce and family law, which has allowed us to develop an extensive body of knowledge in this complex area of practice. With a thorough understanding of the law and a commitment to supporting our clients at every stage of the divorce process, we have earned a reputation for excellence and countless satisfied clients, like this one:
"Rosa guided me and just watching her work was extremely impressive. She is strong, confident, educated, fair, assertive and doesn't take no for an answer. I am telling you that Rosa will represent you the way you need to be represented. She'll help you every step of the way and she'll make you feel safe. Divorce is a very sad experience. No matter what you may be feeling at the time, Rosa will get you through it. She will always fight for what's fair and what's right. She will fight for her client. I know I could not have gotten through any of this without her help!" – Marla
To read more of our client reviews, visit our Client Reviews Page and please feel free to contact our office in Hackensack at 201.968.5700 to schedule a consultation about your specific divorce case.
Common Components of New Jersey Divorce Matters
Whether you have just been served divorce papers, you recently filed for divorce, or you are dealing with an ongoing divorce matter in New Jersey, you may have questions or problems associated with one or more of the following common divorce-related  issues.
Child Custody
When going through a divorce, child custody can be an intimidating process, as it involves your children and the most important people in your life. While child custody configurations can vary as much as individual families, the best interests of the children are always paramount when determining these arrangements. When negotiating a child custody arrangement or arguing for one in court, the schedules of the children and the parents, job commitments, living situations, and previous roles in caretaking will all come into play. If possible, we will work with your spouse's lawyer to arrive at a mutually agreeable resolution, and if not, we will go to battle for you in court.
Child Support
Child support can be a multifaceted issue, both during divorce proceedings and after the final divorce decree has been issued. Under New Jersey law, both married and unmarried parents are required to provide financial support to their children. However, conflicts generally arise when parents disagree about who should pay how much. We know how stressful financial issues can be, particularly when they involve supporting your children. Rosa Rickett is an NJ family lawyer who works with parents at all phases of the divorce process, as well as unmarried parents, to ensure that both parents pay their fair share. We also assist clients with child support enforcement if the other parent is deliquent with his or her child support payments.
Division of Assets
In marriage, couples generally pool their resources, sharing bank accounts, credit cards, real estate, and other forms of property. Unfortunately, with such a high level of financial entanglement, the process of dividing and distributing assets and debts after a marriage can be extremely complicated and highly contentious. When you are faced with such a significant challenge, you need a divorce lawyer who is highly experienced at handling property distribution issues. Our firm's founder, Rosa Elfant Rickett, has extensive experience with complex asset division and forensic accounting in New Jersey divorce. She utilizes this depth of knowledge to achieve the best possible property settlement agreements for her clients.
Alimony and Spousal Support
Every divorce case is different and alimony, also known as spousal support, is among the most variable factors in a New Jersey divorce. The purpose of alimony is to allow each spouse to maintain a lifestyle as similar as possible to the one which they maintained during the marriage. Spousal support is also intended to ensure that neither spouse is disproportionately harmed financially by the outcome of the divorce. In New Jersey, there are different types of alimony, which may be applied during divorce proceedings and after the divorce is finalized. Rosa Rickett is an NJ divorce lawyer who is well-versed in current case law regarding alimony and she regularly assists clients with the often contentious process of alimony determinations.
Contact a Hackensack NJ Divorce Attorney to Discuss Your Case
Whether you have barely begun the divorce process or you are well underway on your divorce journey, a Bergen County divorce attorney at Elfant Rickett Law Firm will meet you where you are and work tirelessly to get you where you want to be. To set up a consultation about your specific divorce case, contact our offices in Hackensack today at 201.968.5700. We represent clients in Bergen County, Morris County, Essex County, Passaic County, and across New Jersey.