The Elfant Rickett Law Firm
Bergen County Family Law Attorney with Offices in Hackensack, New Jersey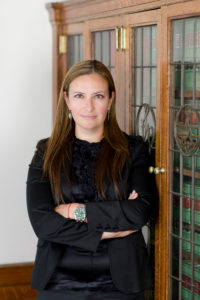 The Elfant Rickett Law Firm, located in Bergen County, New Jersey, was founded by seasoned New Jersey family law attorney Rosa Elfant Rickett. With offices in Ridgewood, the Elfant Rickett Law Firm is dedicated entirely to divorce, special education, domestic violence, and other family law matters. Our skilled New Jersey family law team regularly assists clients with child custody, division of assets, alimony, and child support matters during and after the divorce process. We also serve on behalf of unmarried parents with child support enforcement and paternity issues, as well as those embroiled in restraining order proceedings. Additionally, a significant portion of our practice is concentrated on New Jersey Special Education Law, as we passionately advocate for children with special needs across the State. Whether your child requires a special school environment, or specific accommodations within their current school, we fight tirelessly to ensure that your child has access to the education they deserve.
Our firm's founder, Rosa Elfant Rickett, graduated magna cum laude from Hofstra University in 1998 with a Bachelor's of Science in Political Science and Psychology. She went on to study law at Benjamin N. Cardozo School of Law in New York, earning her Juris Doctorate in 2001. During law school, Rosa worked for the Family Court in Manhattan, which ignited her passion for family law. She also worked under the Attorney General's Office in New York, gaining valuable experience among the highest echelons of the legal system. After graduating from law school and becoming admitted to practice in the United States District Court, District of New Jersey, Rosa served as a Judicial Law Clerk to the Honorable Stephen J. Bernstein in Essex County. During this time, she accumulated a wealth of knowledge about the inner workings of the New Jersey court system, which she now employs to best serve her clients in their legal matters.
Rosa spent the next several years working for some of the most highly recognized law firms in New Jersey. At her first firm, she was able to concentrate entirely on family law, while at her second, she gained invaluable knowledge and experience working in special education law. Over five years ago, Rosa ventured into private practice, establishing the Elfant Rickett Law Firm, where she is able to dedicate herself to her passions for families and children with special needs in New Jersey. Over the course of her career, Rosa has handled a vast array of extremely challenging cases, including international child custody disputes, high profile divorces, and divorce matters involving the transgender population. She has extensive experience with matrimonial mediation but is also an aggressive advocate during divorce litigation, often being called a "pitbull" by former clients. Rosa has also tackled some of the most complex asset distribution issues during New Jersey divorce and she has particular experience with forensic accounting. Whether she is advocating for a children with special needs during education proceedings, facilitating a favorable marital settlement agreement, or going to battle during divorce litigation, Rosa puts her heart and soul into each and every client's case.
"From our first meeting, I knew Rosa was the right fit for us. Her concern was genuine. Ms. Rickett walked me through the whole arduous process, keeping me informed of all the issues, explaining the choices and options that needed to be made, researching through infinite mounds of case law, personally attending every hearing/motion/court date, and emotionally supporting us in every way." – Jane
To read more of our client reviews, visit our Client Reviews Page, and to discuss your specific divorce, child custody, domestic violence, special education, or other family law case with a highly experienced New Jersey family lawyer, contact our offices in Hackensack at 201.968.5700 to schedule a consultation.