New Jersey Special Education Lawyer
Attorney for Children with Special Needs in Bergen County, NJ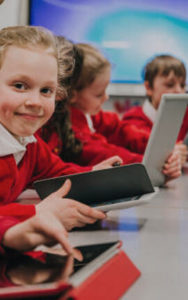 Each and every child is unique, with his or her own special qualities, gifts, and challenges. However, there are situations in which a child is more challenged than typical children in their age group, requiring specific attention and accomodations in order to be successful. This can be particularly difficult for parents when they are unsure of what their child's diagnosis might be, or what specific services may be best-suited for the child's special needs. It can also be extremely stressful when a child has special needs that a school or school board is refusing to make accomodations for. At The Elfant Rickett Law Firm, with offices in Hackensack, New Jersey, our firm concentrates solely on Special Education and Family Law in New Jersey. Our firm's founder, Rosa Elfant Rickett is a highly knowledgeable New Jersey special education attorney who has assisted countless children and parents across New Jersey and she is a passionate advocate for children with special needs. In fact, because of her knowledge and experience with special education law in New Jersey, Rosa has been called upon as a trusted legal resource and has been featured in New Jersey's legal series "Law Talk Today."
At The Elfant Rickett Law Firm, we are well-versed in the law regarding early intervention, screening and evaluation, child study teams, eligibility for specialized services, and individualized education programs (IEP's) and we fight tirelessly to ensure that your child's rights are protected during special education matters. We represent children with a vast array of disabilities and challenges, ranging from Autism to Post-traumatic Stress Disorder (PTSD). Whether you are in need of an advocate to secure an IEP for your child or you are engaged in a dispute with a local school district, we will use whatever tactic is necessary, be it mediation, negotiation, or litigation, to ensure that your child has access to the education they deserve. To discuss your child's specific situation and learn more about your legal options, contact our offices in Hackensack today at 201.968.5700 to schedule a consultation with a New Jersey special education lawyer.
Do You Have a Child with Special Needs in New Jersey?
The most fulfilling experience is hearing from our clients about how their children are thriving in the right school environment for their special needs. We often hear from grateful parents like this one:
"My daughter is epileptic and mentally retarded. She cannot speak and has difficulty moving around on her own. She was in a school specialized for the handicapped children until the members of the district I live in decided she should attend a regular high school as a means to save money. My daughter was about to be placed in a school that not only posed a hazard to her safety, but also did not meet her needs. While in that school, her character changed from a happy child to that of a child that was distant, depressed and reserved. With the help of Rosa Elfant Rickett, Esquire, not only has my daughter been transferred to the best school in the area for her needs, but her overall disposition had greatly improved. Every day, she shows us how much she learns and has the biggest smile on her face at all times. Rosa fought for my child when others tried to take advantage of her shortcomings. She was the person who taught me to pay attention and carefully read through the IEP's as a way of assisting in the legal battle. We are eternally grateful for the battles Rosa fought and won." – Adelfa 
Special Education Law in New Jersey
Rosa was featured in a multi-part series on Law Talk Today, as she discussed Special Education Law in New Jersey and the myriad of rights that children with special needs and disabilities have under State and Federal law.
The Individuals with Disabilities Education Act (IDEA)
The Individuals with Disabilities Education Act (IDEA), also known as the Individuals with Disabilities Education Improvement Act, guarantees certain rights to children with disabilities to ensure they receive a free and appropriate education (FAPE) that is tailored to suit their individual needs in the least restrictive environment possible. IDEA applies to children with a wide variety of special needs and disabilities, including:
Autism
Intellectual disabilities
Hearing impairments (including deafness)
Visual impairments (including blindness)
Speech or language impairments
Emotional disturbance
Orthopedic impairments
Traumatic brain injury
Other health impairments; or
Specific learning disabilities
If a child meets any of the above classifications, and they require special education as a result, they are entitled to a vast array of accomodations and specialized services, ranging from assessments and evaluations to Individualized Education Programs (IEP's).
Section 504 of the Rehabilitation Act of 1973
If your child does not qualify for special needs services under IDEA, he or she may be eligible to receive special education accomodations under Section 504 of the Rehabilitation Act of 1973, often referred to simply as Section 504. Section 504 is intended to assist students with learning and attention issues who remain in the general school population and participate in a general education curriculum. Similar to an Individualized Education Program (IEP) for students covered by IDEA, a 504 plan includes accomodations and specialized services customized to meet the specific needs of the child.
Education Services for Children with Special Needs
Under the law as provided in IDEA and Section 504, children with special needs and disabilities may be afforded any of the following specialized services:
Individualized assessment and evaluations to determine eligibility for special education
Testing and assessment to identify specific needs
Unique Individualized Education Program or Section 504 Plan based on specific needs and education objectives
Attendance at private school, public school in another district, residential education institution, or other government program at no personal expense
Specialized services including personal aides, one-on-one instruction, occupational and physical therapy, speech therapy and language services, psychological/mental health services, recreation and rehabilitation services
You can also visit our Frequently Asked Question's Page and our Special Education Guide to learn more about Special Education Law in New Jersey.
Contact a Hackensack NJ Special Education Lawyer for Answers
Rosa Elfant Rickett is a New Jersey special education lawyer who works with parents and professionals to ensure that children with special needs and disabilities are provided the educational environment and specialized services that best serve them. Our legal team works with local school districts to settle disputes through private conferences and mediation, and when necessary, we aggressively pursue litigation to protect and defend your child's rights. Contact our offices in Hackensack to schedule a consultation about your child's unique circumstances. We assist children and parents across New Jersey, including Bergen County, Essex County, Passaic County, and Morris County.